Irish America magazine celebrated some of the most esteemed Irish names in finance at our 2022 Wall Street 50 event at the beautifully decorated Metropolitan Club in New York City on December 12. Spirits were high as honorees and guests socialized at our first Wall Street 50 event since the early Covid-19 lockdowns – and it was delightful to see our returning honorees among the new.
Niall O'Dowd, the magazine's founding publisher, began the event with a proud and touching speech that he left on an inspiring note: "We were told that there is no Irish on Wall Street – but you are living that tonight."
He then welcomed Irish America Hall of Fame honoree Judy Collins, who brought in the American spirit with her famous cover of Amazing Grace, which spent 67 weeks on the top music charts. And with her casual charm, she asked the crowd to sing along. She then shared the story of change: how the writer of Amazing Grace, Englishman John Newton, a former slaver whose slave trading ship crashed off the coast of Derry transformed his life and advocated for slave abolition.
Consul General Helena Nolan took the stage to congratulate this year's honorees and noted how elated she was that there were women and younger people in attendance who are powerful role models and representatives for Ireland, and how their successes are not individual, but shared through a sense of identity and a crucial link to home.
Honorees present for the celebration were Cathy Boyle, a senior managing director and co-team lead for the Not-For-Profit Banking Team at Webster Bank; Manus McGuire, the Co. Clare-born Senior Account Executive for KX, a software developer and vendor; Anne Long, the president and national practice leader for CBIZ Life Insurance Solutions, who also authored a heartfelt article about her adoption story in our Winter 2022/2023 Issue and Co. Donegal native Rory Griffith, an EY digital strategies senior manager, who has championed in the company's growth and engagements.
Between speeches and dinner courses, guests mingled until Ciaran Sheehan, who played the Phantom on Broadway's Phantom of the Opera, brought in the Irish spirit with a performance of "You Raise Me Up".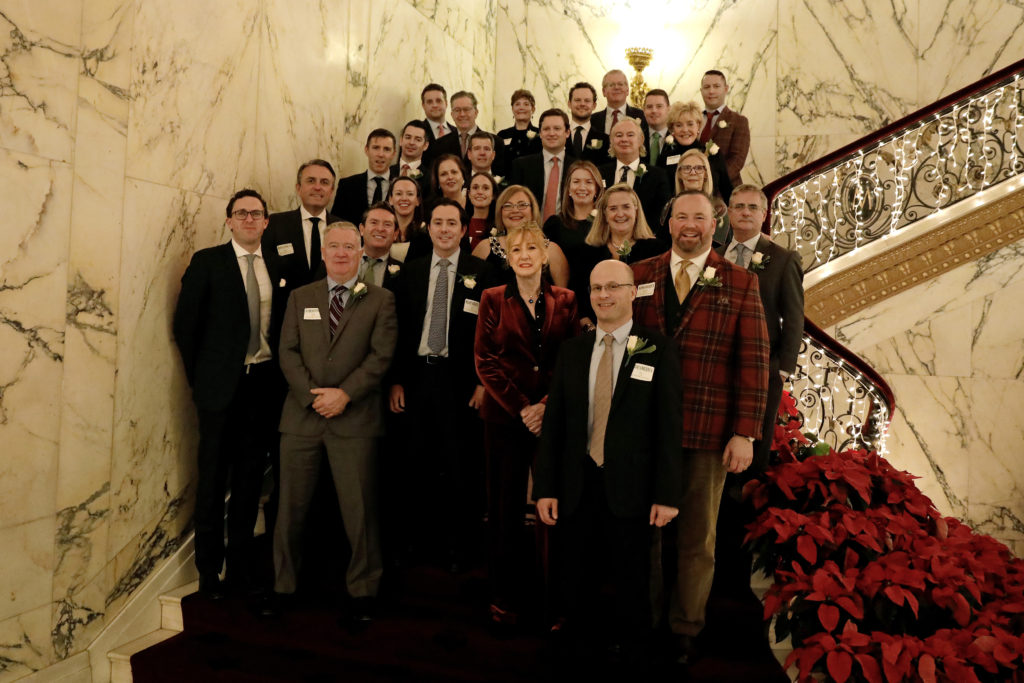 The highlight of the night was the keynote speech from Ronan Ryan, co-founder, and president of the high-profile electronic trading company, IEX, who is also the chairman of the Irish humanitarian relief organization, GOAL. Ronan and his colleagues made headlines when they were featured in Michael Lewis's best-selling book, Flash Boys – and Ronan filled us in on what the book missed: his early years and those he met along the way – including John Sharkey, the Irishman who gave him his first job, and his plans to give back as GOAL's chairman. He mentioned that Ireland is a small nation of only 4 million people but has a powerful role on the global stage of humanitarian relief by servicing over 18 million people experiencing crises – a truth he holds close in his role.
"I got a call that changed my life… We got a guy on the phone from high-frequency trading (black box trading) from Kansas, Bountiful Trust. He started talking about, 'every time I send my trade from Kansas to New Jersey, it takes me 43 milliseconds to get acknowledged for my trade.'" After pausing to think, "what is a millisecond?", Ronan offered to help the trader – a decision that would revolutionize his career and kickstart IEX.
"Don't take yourself too seriously, check yourself, and be very very thankful for all the luck you've got in life because almost all of us here have been incredibly lucky with someone there to help us. Someone had a John Sharkey, someone had a Tom Moran. Try to give back as best you can," Ronan said to close his speech, which was met by a full room of standing applause.
Ciaran Sheehan ended the night with a rendition of Believe from The Polar Express, perfectly apt for the upcoming holidays.
The awards reception was the first time that Irish America was able to celebrate the Wall Street 50 event since 2019, and it was a joy to commend our honorees with such a night. As Consul General Helena Nolan said in her praise, "from the famine to high finance."
Comhghairdeas & Beir Bua!
The 2022 Wall Street 50 Honorees
Thank You to Our 2022 Healthcare 50 Sponsors